Click on the county or coastal water zone of interest to get the latest forecast from the National Weather Service.
HARVEY
Track
Caribbean Sea
[10/10]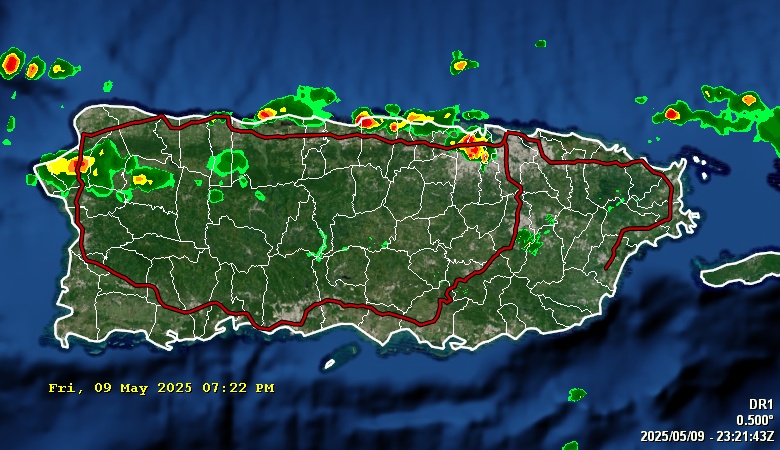 Local Radar
Weather Summary for Puerto Rico

510
AWCA82 TJSJ 232108
RWSPR

Weather Summary for Puerto Rico
National Weather Service San Juan PR
508 PM AST Wed Aug 23 2017

The morning was mostly sunny today with Saharan dust that caused
horizons and hills to sport a milky appearance. Showers developed
over and around the Cordillera Central just before noon and by 2
PM AST thunderstorms were in full swing with heavy rain from
Orocovis to Hormigueros and from Adjuntas to Moca and Aguada. The
highest amounts fell in the tip of northern Adjuntas municipality
with between 4 to 5 inches. Other areas of heavy rain included San
Sebastian, San German, Lares, Utuado, and Morovis with 2 to 3
inches in spots in each.

Most areas had maximum temperatures in the upper 80s although a
few unofficial inland spots near San Juan had 90 to 95 degrees.
East winds were a little more relaxed today but San Juan still saw
12 to 18 mph with a peak wind of 24 mph. Winds were lighter
elsewhere and sea breezes dominated local wind flows.

Showers will end early this evening and are already dieing in
western Puerto Rico. The driest air will move over Puerto Rico
during the mid night hours ahead of a weak trough that will bring
another active round of showers and thunderstorms for western and
interior Puerto Rico Thursday afternoon with urban and small
stream flooding likely. Another weak wave is also expected
Saturday. Highs will range from the low 90s on the northern coasts
around San Juan to the mid 70s in the higher mountains.

Mariners can expect seas between 1 to 4 feet with occasional seas
up to 5 feet and winds of 5 to 15 knots. There is a moderate rip
current risk across the northern beaches in Puerto Rico and
eastern Vieques.

$$

This product is issued around 5 AM and 5 PM each day and weather
conditions may change between issuances. Please verify the status
of any Watches...Warnings or Advisories mentioned in this product.
Tropical Weather Outlook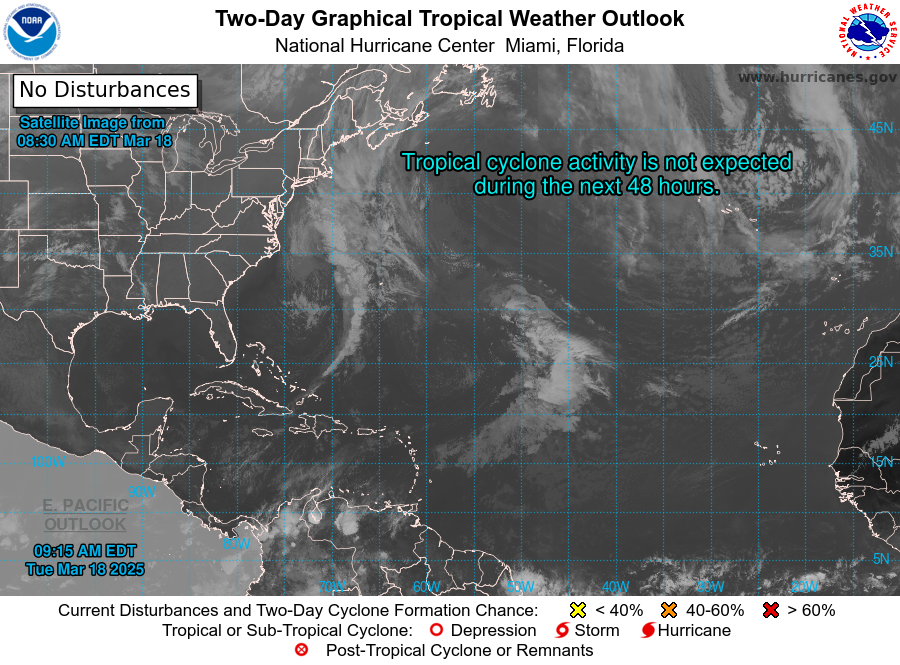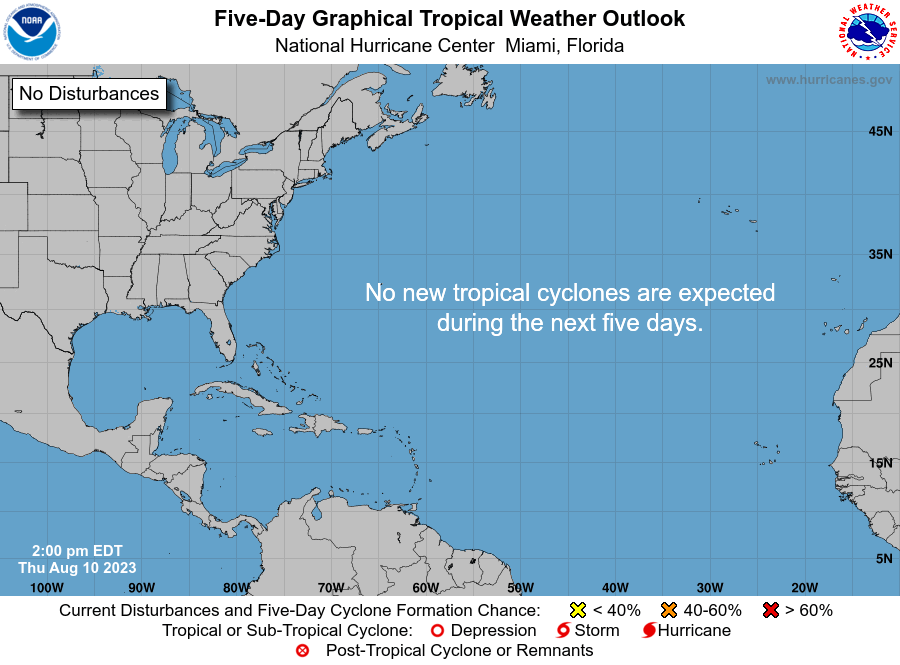 Satellite Imagery
Select a map type to view:

Atlantic Wide View (Click Image for Loop)
Global Tropics Hazards and Benefits Outlook (Click image for more details)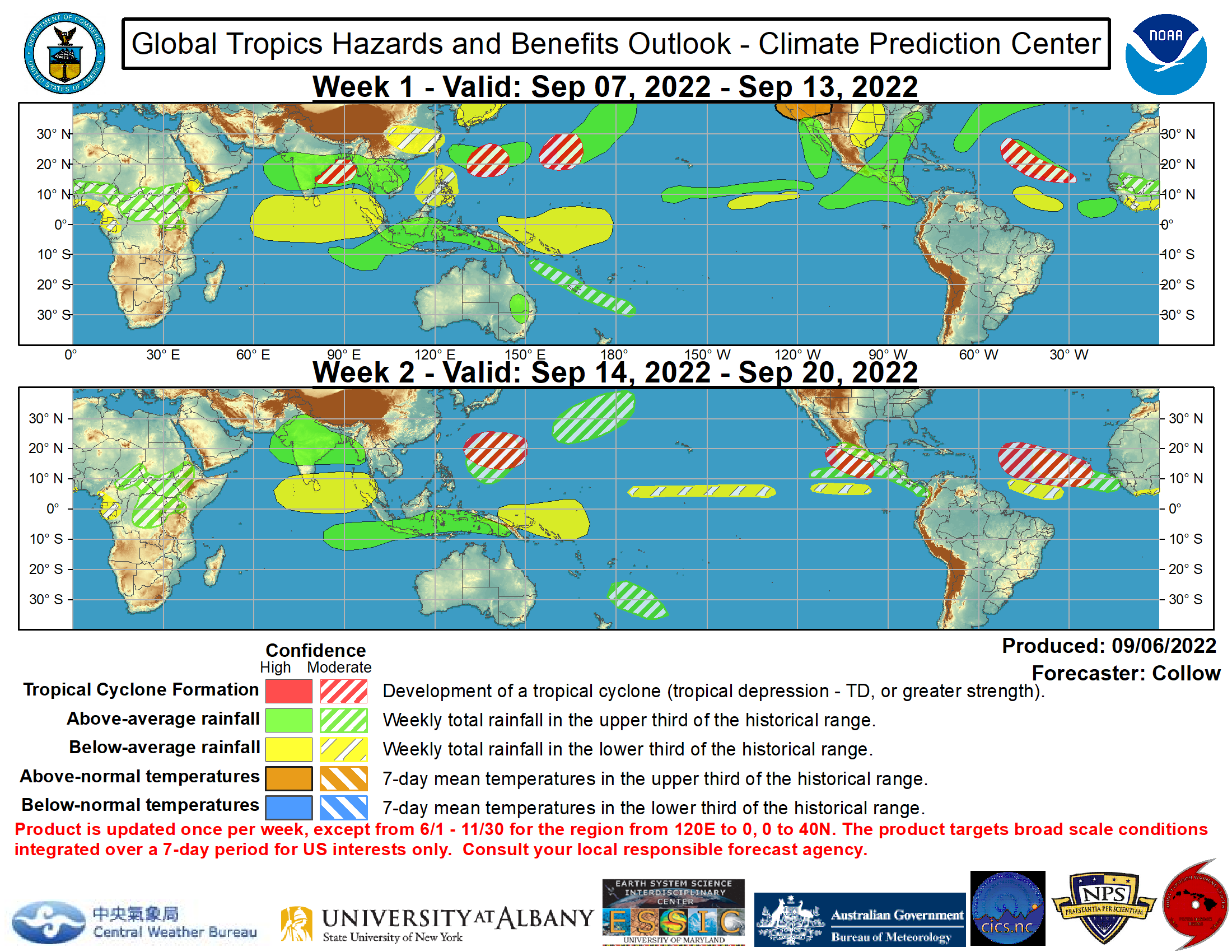 Saharan Air Layer
Wind Shear Tendency
Sea Surface Temperatures Anomalies